ICO Pulse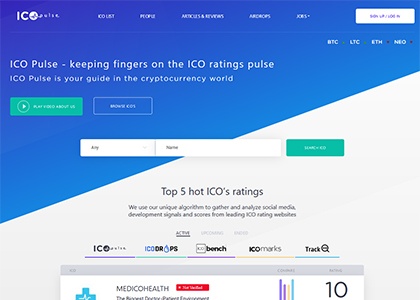 There are many ICO ranking websites out there. But they do not come close to ICOPulse when it comes to analyzing ICOs in order to give them the most accurate score possible. Our unique system scans the entire Web to collect as much information as possible on each ICO and automatically keeps the rating scores up to date.
ICOPulse makes the task of researching any ICO easier by providing all the necessary information in one place. We constantly monitor each ICO's developer activity on GitHub as well as community activity on social media to provide you with the most recent data. Our experts analyze and review the most interesting ICOs to give you even more information before you make an important decision to spend your money on a new ICO token.
ICOPulse welcomes ICO developers as well. You can register an account to contribute more information to your ICO listing, stay in touch with the community and reach out to potential investors. Specialist advice, promotion, and advertisement are also available.
We also keep our visitors up to date with the most recent news and events in the world of Blockchain. Our journalists are always keeping an eye on the latest developments in cryptocurrencies and blockchain technology to write the best exclusive stories. It is essential to keep your fingers on the pulse of the latest news if you want to be successful!
All of that is incorporated into a brilliant UI/UX design. Intuitive layout makes navigating across ICOPulse a breeze while a clean and modern look is pleasing to the eye. The website is designed to stand out from the crowd without compromising efficiency.
We worked hard to build a robust website which can handle hundreds of thousands of visitors. Our code is optimized to handle high traffic and ensure smooth operation even during traffic spikes.
You can have the best website in the world, but it will mean nothing if you do not have enough organic traffic. Our SEO experts optimized every webpage to ensure that ICOPulse is among the highest-ranking websites on Google.
Most importantly, we strive to continue making constant improvements to stay ahead of the competition.
Desktop Design, UI&UX
Recent works