NOVAVPN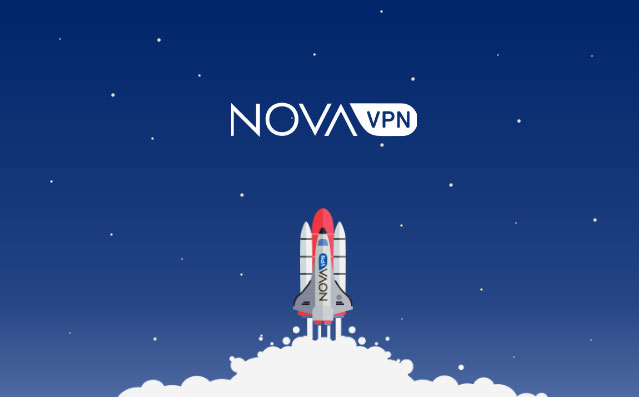 NovaVPN was designed to ensure unique experience for its users thanks to simple installation and maintenance, resulting into additional layer of security for multiple devices.  Widely known, information is power, while the Internet is the fundamental source of information in the 21st century. Even though many people imagine virtual private networks to serve as hacker tools only, they in fact open tremendous opportunities for those wishing to protect their privacy and access the requested data without any limits. And this is what NovaVPN provides, empowered with the latest encryption technologies that allow totally safe connection over public networks.
Here is a short explanation of why it is worth trying NovaVPN service.
First and foremost, NovaVPN will guarantee 100% privacy and security online. You can keep calm and use public Wi-Fi even for sensitive data transactions without any fear of leakage, hacking or disclosure. There is no chance your business correspondence, private messages or any other confidential info will be lost or eavesdropped.
Nowadays, many big companies actively apply virtual private networks while constructing reliable workstations for their employees who are very likely to leave the office for business trips or simply have to work remotely. With NovaVPN, it is possible to set a safe connection with the company network. 
Another pleasant advantage you can obtain after acquisition of a NovaVPN account is total online freedom, independently of your geographical location, business area or any kind of content filtering policy.  Travel and enjoy streaming your favorite media published on Netflix, Spotify, YouTube etc. from any spot on Earth and even download restricted files staying anonymous. Plus, Torrent whose accessibility is slightly limited. Short notice: NovaVPN will also protect you from unacceptable control by the Internet Service Providers, which are often obliged to monitor their clients in order to disclose suspicious or crime-prone online behavior. This is all about equal access rights for the Internet users, without any blockers, traffic filters and history logs.
NovaVPN is compatible with multiple devices (desktop and mobile) and supports the most popular operating systems, added by multiservice and multiprotocol support.  The application does not require any special knowledge or skills for successful usage – just minimum user engagement in typical tech issues like filtering or server connection. User-friendly interactive design and selection of necessary features make NovaVPN a great app, which already occupies a competitive position in the VPN market.
Importantly, NovaVPN puts security as one of its top service priorities, which is why the application uses strong encryption algorithms to hide real IP addresses of the client users and set a reliable connection tunnel. In addition, thanks to allocation of NovaVPN servers all over the world continents, users have a chance to manually connect to a server that will match their current online activity using the filter options provided. This also allows individual scan of each server's load and connection power.
Whatever your purpose of using NovaVPN is, all-round security and less restricted data access are guaranteed. And this is all about being a global Internet user deserving the freedom of information.
Desktop Design, UI&UX
Mobile Design, UI&UX
Recent works